Photoshop Training
Photoshop used to create graphical elements for webpages, design web-layouts .Here; we will teach you every basic and advanced tools of Photoshop, which is necessary for all web designers.
HTML-5 Training
HTML is important coding for creating website page. We will teach you advanced web designing course which cover both html and html 5.0 with latest tags and attributes that support for all browsers and devices.
CSS Training
CSS used to arrange the webpage design and alignment. You will learn both CSS 2.0 and CSS 3.0 with advanced animation and transition effect, which help to animate website and make it attractive.
Java Script Training
It is object oriented programming language, which help you to add validation on website. Through JavaScript, we can manage dynamic functionality like loading of another website pages inside a page and manage website on different devices.
JQuery Training
It is library of JavaScript and provide us lot of pre-defined code, which helpful for develop webpages. We can develop website in minimum time and with less errors. Here, you will learn all the basic and advanced concept of jQuery, which is most common, used for web designing.
Dreamweaver
Dreamweaver is a coding software, which used to create website pages and web applications with less error coding. It help you to design website pages and deployment on server. Here you can learn all features and tools of this software
PSD to HTML
Here, you can learn how we create design files, wireframe and its HTML conversion also. We provide you training form scratch that how Photoshop used for design and then how it convert into the HTML
Responsive
Responsive website are in demand of all industry, here we will teach you how to convert design into responsive html, which is fit, to all tablet and mobile devices. We also teach you responsive framework (i.e. bootstrap) which used for fast coding.
ACIL Computer Institute provide you the Best Web Designing course in Gurgaon, which is based on live projects. There are unlimited topics, we will teach you deeply as much you want to learn.
Web Designing is an in-thing in the industry, which is gaining more importance day by day due to its efficient features. A well-designed website means a developed platform to extend your business and so you do need to hire the best professionals to get the best results. Keeping all this in mind, ACIL Software Solution extended its helping hand through the best web designing course that will create talented web designers out of the aspiring individuals.
Therefore, if you have made up your mind that you want to choose this particular field, then you must go for the training that we provide. In addition to that, we also assure about the placement of your candidates.
Qualification required for Web Designing Course.
If you want to join this course, you do not need any specific qualification. In Web Designing course creativity and good understanding of colour concept is very important.
Those student who completed 10+2 , BCA, BA, BBA, M.SC, B-Tech or any type of graduation can join this course
What are the scope of web designing after completing this course?
You can join any web designing company or Product based company and start your career
You can earn through freelancing projects also
After completing this course, you can start your own website designing company.
This course is help you to increase your own business. You can maintain your website regular basis and made it updates. It will help you to grow your business.
You can design you own website by completing this course where you can earn money online.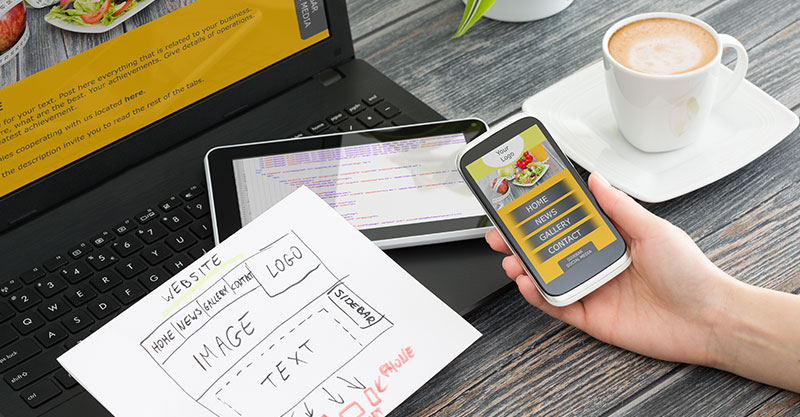 About Web Designing
The art of decorating a website with the appropriate and useful means to depict the story of the site clearly is web designing. It is also the technique with which the brand wishes to attract the people and increase its traffic. The web page is the identity card which creates the first impression and in order to have an impactful impression you need experts. The experts understand all the nuances and pay heed even to the smallest details so as to bring to life the best possible website. Understanding the importance of the discipline, we, ACIL Software Solution opened our department and became the most popular Web Design Institute in Gurgaon because of our beneficial services.
The knowledge of web designing is extremely crucial and it will help you to come up with interactive websites with visitor-friendly facilities.  Hence, it would be a great idea to take the training and get placed in an MNC to enjoy the smooth career graph.
Few Important Points about us
ACIL Software Solution is truly a savior for many people in a different sense. We have been working in this field for quite a few years and thus have gained the necessary experience to sense the pulse of the mass. So, we try to bring to you the most superior services possible. To ensure a good training, we have hired the trainers from the popular MNCs who have an in-depth knowledge of the industry and its requirements. Couple with that, our effort to purchase and decorate our labs, library, and classes with the modern machines to make the course interesting and effective are also paying.
No other Web Designing Institute in Gurgaon has shown the courage to guarantee placements to the students. But by virtue of our rigorous training and cordial relation with the MNCs, we are certain to place our candidates according to their eligibility, merit, and preference. Moreover, we have also kept the fees reasonable enough for all the interested candidates to apply, as we know not everyone has the capacity to splurge a lot.
We follow a simplified course pattern with three prime categories of students- learners, intermediates and experts. If you have no idea about the topic or if you want to sharpen your already present knowledge, then we prove out to be the best name in the business. Just check the basic advantages that we vouch to offer and then decide whether you want to be a part or not.
Why Join ACIL for Web designing Training in Gurgaon
The curriculum of the course is compatible with the industry needs and the teaching approach is simpler.
The trainers have the required experience and patience to properly coach the candidates towards the best.
The classrooms have inbuilt projectors and video recordings to improve study and record notes.
The labs and the library are perfectly stocked with machines and books.
Sample question papers and study materials to help the students score good marks.
Live projects to practice and sharpen the skill of the candidates and apply their knowledge.
Additional classes and practice sessions to become an expert.
Special grooming classes to boost the confidence and improve the personality.
Flexible class timings as per the convenience of the students.
Course completion certificate approved by the industry and other companies.
Placement in top MNCs with a good salary.
Affordable course fee that can be paid through various options.
100% Placement Assistance and Job Guarantee.
Photoshop is an important tool in Web Designing Course, which cover all graphic elements of web designing. Photoshop is very useful and advanced editing software used for all types of designing of layout, Graphical Concept and draw a unique concept.
Topic Covered in Photoshop Training
Photoshop Introduction and Interface
Tools and its overview
Toolbar options and Format
What is layer in Photoshop and why it used
Draw a Canvas Element, Zoom in out features.
Difference between RGB and CMYK Mode, Why it used.
Transform, Resize, Rotate and Wrap Property
Image optimization in jpg, jpeg, png and gif
Cropping and Trimming of layers
Preference setting and history.
Design a layout concept using grid
locking, transparency and movement of layers
Marquee Tools and its types
Selection and Grouping
Brightness, Levels and Contrast.
Desaturation, Hue and saturation of images.
Editing and picking of colours.
Sharpen, Blur and Dodge tools
Burn and Eraser tools.
What is difference between rasterize, smart and Vector object in Photoshop
Filter Effects
Tool Reset
What is difference between Layer Mask and Clipping Mask in Photoshop.
Artboard in Photoshop.
Grid Layout
Why Photoshop used in Web Designing Course
It help designers to create website layout
Photoshop is used to create Newsletter, Banners, and Infographics, which is used for Online Marketing.
We can learn Mobile Layout Design, Dashboard Design by using Photoshop
We can create any type of effects by using Photoshop
XHTML, DHTML, HTML 1.0, 4.0 and HTML 5.0 Training
HTML and its Introduction
What are file extensions?
Why are document types?
What is DOM
Meta Tag and its used
Basic Tags
Elements in HTML
Selectors and its Attributes
Class and ID Selectors.
Difference between Class and ID?
Heading tags
Formatting
Using Styles in HTML
Href Links
Images & alt tags
Tables & Div
Order and Un-Order Lists
Forms
Frames & No Frames
Iframes
RGB and Hash Colour Concept
HTML-5.0
What is HTML 5.0, Why and where it us
Header, Footer, Section, Aside and all other new tags used.
Video tags and its types
Audio tags and its compatible browsers.
What is Canvas? Difference between Canvas and SVG
Validation with HTML 5.0
You will learn everything when you join our Best Web Designing institute in gurgaon.
CSS play an important role in coding which used for presentation of webpages, layout, fonts and colour. It allow that one design can support different devices (i.e Tablet, Mobiles Phone, Android, Large Devices) etc. It is an independent coding in html and easy to maintain sites.
CSS 2.0 Course Content:
CSS 2.0 introduction
Extensions and its syntax
Data-Role, Class, ID and its role
Difference between Inline and internal and external CSS?
Background Colour
Background Image, Repeat Property and Position
Sprite Images
Multiple images in Div Using CSS Property
Font Family, List and Table styling
Border and their styles in CSS
Outline in CSS.
Difference between Pixel, Percent and em in CSS.
What is greater than in CSS.
Display property in CSS, How and Where it used
Float and Clear Property in Css.
Images and its editing tags
Class Attribute and its selectors
Media Query
Hover effects
Media queries for different devices
Difference between Device Width and Screen Width.
What is DPI in CSS
CSS 3.0 Course Content:
CSS 3.0 Introduction and its used
Browsers and version control in CSS
Text Shadow and box shadow.
Border Concept in CSS.
Background and its properties.
What new in CSS 3.0
Transform property
Scale Property in CSS 3.0
Path Animation in CSS 3.0
Animation Duration, Delay, Key frames in CSS
Animation with SVG using CSS
JavaScript is a programming languages used for Web Application and HTML. This used to write logic and method in coding. We can validate form by using JavaScript. JavaScript is an object oriented programming languages. You can learn from basic to advance in our Web Designing Institute in Gurgaon.
JavaScript Course Content:
Oops Concept & Introduction
JavaScript Syntax
What is Variables
Operators & Data Types
Function and Method in JavaScript
Difference between Function, Object and Method in JavaScript
Array in JavaScript
String, Number and Float in JavaScript
IF, Else Statement
Nested if else in JavaScript
Loop in JavaScript
Validation using JavaScript
Why we use this Keywords in JavaScript
JQuery is a library of JavaScript. It commonly used for effects & Animation in HTML 5.0. By using jQuery, we can perform animate, scroll event property, toggle effect and many more. It is easy to learn and based on JavaScript programming
JQuery Course Content:
JQuery Intro and Syntax
Selectors in jQuery
Hide and Show in jQuery
Fade Effect.
Animation with jQuery
Event Bubbling in jQuery
Add and Remove Class in jQuery
Add and Remove CSS
What is no Conflict() in jQuery
jQuery Effect, Control, Property
Bootstrap is an HTML 5.0 and CSS 30 Framework, which help for fast coding. It is world's most popular open source used in much industry. We can develop and responsive mobile friendly website or application by using this framework.
Topic Covered in Bootstrap Course:
Introduction
Grid System
Define Layout in 12, 16, 24 Grid
Grid Concept
Typography
Tables and Images
Button and Alert
Pagination
List
Pager and dropdown
Navigation bar
Input & Field
Tooltip
Theme Implementation in bootstrap
Animation in Bootstrap
Tools Covered in Dreamweaver Course:
Dreamweaver Introduction
Create Project
Select Web Layout
Window and Toolbars
Inserting panel
Layout launcher
File and  property inspector
Panels
Define Web layout
Comments
Indent of Coding
Code view
Setup a new project.
Learn from Basics
How to create a project
Create Document file for HTML, CSS, Javascript
Add images on HTML Page through pannel
Insert and editing of text in multiple formats.
Layout Alignment Setup.
Modification of page property
Create anchor link
Meta tags and its uses
Web page Preview
Dreamweaver Linking : –
Hyper links
Target Setup in Links
Files Linking
External and Internal Links
Email Linking
Tel Linking
Mapping of Image
Typography in Dreamweaver
HTML Formatting
Fonts Links and its types
Alignment and adjustment of tet
List property using disk, number, alphabet and square
How to insert a table,
Cell padding and Cell spacing inside a table
Design table structure with a div method
Convert PSD to HTML
PSD to HTML Conversion
Resizing Images in PSD File
Define Site Map
File & Folder Structure in HTML Projects
Setup Default Fonts, Colours, Size
What is 2x and 1x Images in Photoshop
Reset CSS
Meta Tag for Support Mobile Devices
Browser Compatibility Meta Tags
Design Menu in HTML
Work on Mega Menu
Third Party Menu Implementation
Values and Placeholders
Slicing a layout
Convert a DIV Tag element
Using Eternal and internal CSS
Mapping of CSS
Hyperlink with different pages
Website Preview
Layout Conversions
Working on Media Queries
How to set media queries for different devices
Browsers Hacks
Browser Compatibility
Favicon in HTML
HTML 5.0 and CSS 3.0 Conversion
Design a Website using HTML 5.0 and CSS 3.0
Animation Using CSS 3.0
Page Optimization
Parallax Scrolling Website
One Page Scrolling Website Concept
Support Website to different mobile devices
Browsers support by hack with cuss and JavaScript property
Google Fonts
Font-Face
Import Fonts
External Fonts
Sticky header Concept
GT Metrix
Google Page Speed Concept
Validation and Optimization of Websites
Job Role in Web designing Course.
After completing this course, you got lot of jobs in this field. You can also start your own business for maintain your website after this courses. Few Job Roles mentioned below. You can check it on different Naukri website.
HTML Designer
UI Designer
Web Designer
Team Lead Web Designer
Graphic Web Designer
Visual Designer
HTML Developer
Frontend Developer
About our Trainers
As mentioned, the trainers are from the inside from the industries only. They currently work in the renowned companies and have taken some time out of their busy schedule to train young minds into perfection to become an efficient web designer.
The benefit of having these trainers is that they make their real-time projects a part of the training which helps the students to apply their skills properly and learn more about the working procedure of the industry. They also prepare module questions according to the syllabus to check the improvement of the students. Moreover, they play a key role in the internal referring procedure of the company and can refer the students they consider to be eligible.
About our placement Cell
Our Web design Institute in Gurgaon has an active and effective placement team that not only keeps searching for apt jobs for the candidates and arranges interviews but also helps to create the CV according to the requirements of the particular jobs. We keep our search for a job on until each of our students gets placed as their success is our responsibility.
We also organize special grooming sessions to enhance the English speaking skills and improve face-to-face interactions. We take mock interviews in pressure situations to prepare all kinds of adversities at work. The certificate that we offer is an authentication from us about your efficiency and it will you in all spheres of life.
Highlights
A training is always helpful as it introduces you with the reality of work life and offers you first-hand experience which helps you to better in life. And, it this regard we indeed play a crucial role. We, ACIL are among the top ten Web design institute in India and nowhere else you will find such a facility, faculty and fees. So, enroll with us soon!